Rev. Dr. Daniel Olson, Pastor
pastor@stjohnsbuckley.com
Melanie Niemann
Church Admin. Assist.
churchoffice@stjohnsbuckley.com
Office hours:
8a.m.-12p.m. Mon-Fri
109 N. Oak Street, PO Box 6 Buckley, IL 60918
(217) 394-2444
---


Labels and box tops may be placed in the container in the lunchroom or in the box in the school office. This year we will also be collecting Tyson Project A+ labels. Your support of these programs is greatly appreciated.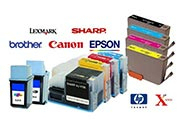 Recycling inkjet and laser print cartridges continues to fund our classroom printers. Every bit helps to keep our technology costs reasonable. Bring used cartridges from your home or business to the school office or Mrs. Munro's room.
Raise money for
your favorite charity
just by searching the web and shopping online!